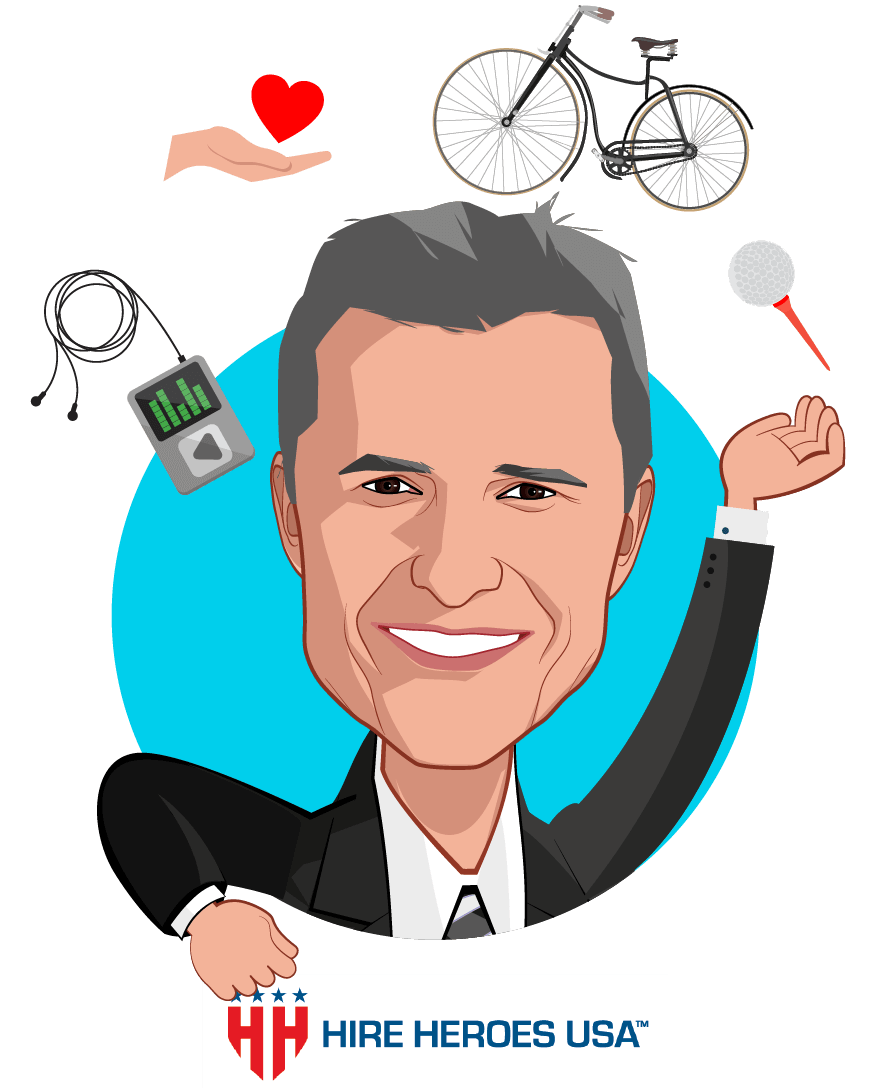 John Bardis
CEO
John Bardis is the former Assistant Secretary for Administration at the U.S. Department of Health and Human Services. He is currently the Chairman and Founder of Hire Heroes U.S.A.
Mr. Bardis founded Hire Heroes U.S.A. in 2006. Hire Heroes has grown to be the nation's largest and most successful non-profit veteran employment and training organization in the United States. In January 2019 Hire Heroes achieved a major milestone of 30,000 veterans hired into jobs since its inception. The national nonprofit is a leader in the veteran employment space, providing personalized job search assistance to transitioning U.S. military members, veterans and military spouses. As a result of their proven success and transparency, HHUSA has been recognized as best-in-class by the Call of Duty Endowment, the George W. Bush Institute, the USO, and several additional impactful organizations. 
In 1999 John Bardis founded MedAssets (NASDAQ:MDAS), one of the leading public healthcare performance improvement companies in the United States, serving four out of every five hospitals and over 100,000 healthcare providers.  He served for 15 years as its Chairman, President and Chief Executive Officer, and as Chairman and Chief Executive Officer until he retired in 2015. As a result of his distinguished leadership as MedAssets Chief Executive, Bardis is nationally recognized as an influential leader in the healthcare industry and healthcare technology sector.  Bardis was recognized by Modern Healthcare as one of the "Top 100 Most Influential Leaders in Healthcare" for four consecutive years (2011, 2012, 2013 and 2014).  In 2012, Bardis received recognition from Ernst & Young as the Technology Entrepreneur of the Year in the Southeast. In 2013 he was the recipient of Becker Healthcare's Annual Healthcare Leadership Award, which named him as one of the "Thirty Top Leaders in Healthcare in the U.S." 
From 1992 to 1997 Bardis was President and Chief Executive Officer of TheraTx (NASDAQ:THTX), a leading operator of skilled nursing facilities and provider of rehabilitation services.  In 1995, in recognition of his successful leadership at TheraTx, Bardis was named Entrepreneur of the Year by INC. Magazine. The publication further named TheraTx as the second fastest growing public company in America, growing from $15 million to over $500 million in revenue in five years. In 1995 Bardis was honored by Ernst & Young as Healthcare Entrepreneur of the Year, Southeast National Finalist.
From 1987 to 1992 Bardis was at Kinetic Concepts (NASDAQ: KCI), the nation's largest specialty bed and medical equipment rental company where he served as President. From 1984 to 1987 Bardis was vice president of the Baxter Operating Room Division and general manager of the Eastern Zone at Baxter International (NASDAQ:BAX). 
Mr. Bardis has served on several boards. He is currently the founder and Chairman of Hire heroes U.S.A., the nation's largest veteran job placement organization.  He currently serves on the Board of Advisors of Jackson Healthcare in Alpharetta, GA. In 2015 he was appointed to the Strategic Planning Committee of the board of Scripps Health in San Diego, CA.  In 2011 Mr. Bardis was appointed to the board of the United States Anti-Doping Agency (USADA). In 2012 USADA investigated and later suspended Lance Armstrong for his use of banned substances dating back to 1996.
In 2018 Bardis served on a 6-member delegation selected by the President of the United States to represent the U.S. at the Paralympic Winter Games. The delegation was led by The Honorable Kirstjen Nielsen, Secretary of Homeland Security.  In 2008 Bardis served as Team Leader of the U.S. Olympic Wrestling Team and was Team Leader in the 2007 World Championships where Team USA won the world team title for the first time in wrestling history. In 2012 Bardis served as a member of the distinguished Committee to Protect Olympic Wrestling (CPOW).  In 2013 he was inducted into the National Wrestling Hall of Fame as an Outstanding American. He served for 12 years on the Board of USA Wrestling from 1998 to 2011.
Bardis served on the Board of Advisors of the Eller College of Management at the University of Arizona. He served on the Board of Directors of the Metro Atlanta Chamber of Commerce for 2014 and 2015. 
Mr. Bardis holds a Bachelor of Science degree in Business from the University of Arizona.
Bardis is a frequent presenter at healthcare conferences and meetings and has made live appearances on several occasions on the CNBC, Bloomberg and Fox Business networks. He has published a variety of healthcare related articles in national publications including articles in Forbes, Market Watch, Institutional Investor and Investor's Business Daily.
Mr. Bardis is married and has three children. He and his wife Judy are actively involved in a variety of philanthropic endeavors, including Mully Children's Family International (MCF), founded to manage residential homes for the feeding, care, education and reintegration of orphaned children in Kenya. In 2015 the Bardis's completed executive production of the documentary film entitled "Mully" to chronicle the remarkable life works of Charles and Esther Mully. 
See All Speakers
Some additional speakers you may like